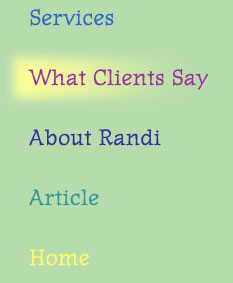 "I showed up on Randi's doorstep unengaged and burned out, longing to find work that would be both energizing and personally meaningful. By applying her skills, tools, and warm, personal and positive approach, we were able to discover a career that is in full alignment with my strengths, interests, values, and goals. Randi then supported me as I made this new career a reality, and continues to do so as I grow my practice. It's easy to show up for appointments because I know that whatever successes or challenges I have experienced, Randi will welcome it all with her trademark warmth and humor. I wake up every day in gratitude for having found this work, and much of the credit goes to the process of working with Randi!"
~ A. Roby

"I can't say enough good things about Randi. I've worked with her three times over the past decade (in one-on-one coaching sessions, for a few months each time). Though I was at a different point in my life/career each time, Randi's insight & guidance were consistently invaluable and helped me successfully progress to the next phase of my life/career.
Randi has helped me confront challenges and overcome inertia. She's a wealth of wisdom, valuable perspectives, resources, and well-thought out (and actionable) ideas. She challenges me when my thinking strays in non-helpful ways & keeps me on course & headed in the right direction. And she's just a really nice & warm person, has a great attitude that's contagious, and is a pleasure to work with. Randi can help in so many ways, whether you're at a crossroads in your life/career and want to make a big change....or if you'd just like to do some fine-tuning, find a situation that will make you happier, or work on work/life balance. "
~ K. Faddis
"When I came to see Randi, I was really unhappy in the industry that I was working in and wanted out badly. I felt stuck, though. I had absolutely no idea what else I could do. I thought of myself as having no skills, no interests, no direction. Randi helped me to see that I had a lot more to offer than what I gave myself credit for. I was truly amazed at how after just a few conversations and exercises, she was able to help me see how many things I could and wanted to do. I am so happy that I chose to reach out to her at this point in my life. I have discovered a new direction that is a great fit for me, and am looking forward to a long career working in an industry that I LOVE.
I was also going through a lot on a personal level at the time I started working with Randi. With her background in counseling and being extremely intuitive and encouraging by nature, she was able to work with me on making a number of positive changes in my day to day life that have been of great benefit as well. I had been in therapy, but did not feel I was making any real progress. That completely changed once I started working with Randi. I felt like I was truly listened to and given helpful input, insight and perspective and can now say that I'm finally moving forward in my career and in my life in many ways that I'd been longing for. I am truly grateful."
~ E. Lombardi
"When I first met Randi, I felt totally frustrated with my career path. I had no idea where I was going or what I could possibly do with my skills and aptitudes. I was completely stumped. Randi methodically guided me through a process of self-discovery that was a marvel to behold. I quickly became energized, focused and motivated in a way I'd never known before. Six months later, I am enrolled in graduate school pursuing my passion for art, creativity, and teaching. I am also developing a number of business opportunities that will generate revenue during and after my formal education. I've never been happier or more at peace. And my self-confidence is better than ever. Randi has helped me change my life in profound ways for which I will always be grateful."
~ M. Lindsay

"I would highly recommend Randi Benator as both a workshop facilitator and a career and life transition consultant and coach. She is awesome! I had the privilege of being introduced to Randi through a class she taught at San Francisco State University Extension. I enjoyed and benefited from the workshop so much that I decided to work with her individually as my career and life coach. Through both the workshop and individual sessions, I have clarified my life purpose and career direction, and worked with her on integrating how I can best use my skills, interests and experience moving forward in new career and life directions. She has also been instrumental in helping me achieve greater work-life balance through the work we have done together. Every step of the way she has been encouraging and supportive while also challenging me in various ways to move forward with my vision. I have found Randi to be very professional, kind, insightful, wise, and a great role model. Thank you, Randi, for all that you have done!"
~ D. Walker
"I came to Randi because I was deeply unhappy with my current profession, and was seeking to discover my true vocational path. I felt that other career counselors I had met with didn't really "get" me. Randi's approach is highly individual, intuitive, eclectic, and creative. She took the time to discover who I am as a person, and what my natural gifts are. Her in-depth process helped me to discover who I want to be in the world. While working with Randi on changing careers in the midst of a ferocious recession, I was offered the perfect new job for me. I am now on the right professional path, and Randi has been a huge part of that. Her approach really works. I highly recommend her!"
~ J. McKeel

"Randi's expert help made it possible for me to travel purposefully through a difficult time of transition. With her wise and experienced perspective, she helped open my eyes to the meaning and value of the many challenges I encountered, and helped me move into a more authentic style of living and working. The exercises we did together illuminated unrecognized strengths and skills I had been unable to discover on my own. I gained confidence and self-esteem as a result of our close collaboration, and a deep clarity about my life direction. I can now imagine my future with a clear vision of what I want to make of my life and with joy and excitement in the journey."
~ S. Colwell


"I came to Randi when I had reached a crossroads in my life. I felt a deep yearning to discover my true vocational purpose, and wasn't sure if I should stay with my current career or pursue a new one. Working with Randi, I wasn't alone with my questions anymore. I had someone who deeply saw and understood me to accompany and guide me on my journey. I especially appreciated Randi's great personal warmth, intelligence, deep listening skills, and spiritual awareness. Our work together gave me insight into my skills and talents, and clarity about what is most important to me. The questions that plagued me before have now been answered. This rich learning experience with Randi is truly priceless and will guide me throughout my l ife."
~ B. Wooster


"Before I found Randi, I was in a tough spot : I'd had a job for 15 years that looked perfect on paper, yet I felt restless and unhappy in my work. I'd become so divorced from my authentic self that I didn't even know what my passions and interests were anymore. Despite reading any number of books on the subject, right livelihood continued to elude me - until I called Randi. During the course of our work together, I reconnected with the things I love about life and livelihood, and, as if by magic, a wonderful new opportunity to meaningfully express myself presented itself. Working with Randi transformed my life!"
~ J. Goldfarb


"My entire career was spent in the Corporate Sector in Marketing and Sales. I was tired, burned out, and unhappy. I walked away and decided I would spend the second half of my life doing something I love. But what? I had NO IDEA! I came to Randi without a clue as to what I wanted. I could only tell her what I didn't want to do.
I am now in my dream job! All through my work with Randi. Not only did I find work I love, I learned so much about myself and what makes me happy. When we started working together, I didn't really think it would work. She guided me through the process with great encouragement and support. She is knowledgeable, logical, and intuitive. My experience with Randi has truly changed my life."
~ J. Roberts


"Before meeting Randi, I had tried other career counselors, but never had good results, and I continued to feel unclear about my direction. Working with Randi felt completely different. Her process really works! For the first time, I got really clear about my career direction and the steps I needed to take. Randi is very, very intuitive. I have since referred several people to Randi, who have all benefited greatly as well."
~ C. Kavanagh
"I struggled for years feeling confused, not knowing what my purpose was. I "fell into" different jobs and had no clear sense of direction. Randi's warm therapeutic approach, wisdom, support and encouragement helped me tremendously. Because of my work with Randi, I am not wandering anymore. I know what my purpose is and why I was put on this earth. I feel I have found my true self because of our work together. If you are lost and cannot find your true career, purpose, or life work, Randi is a must!"
~ M. Gray-Smith
"Working with Randi as both as a workshop participant and individually has been a dynamic, encouraging and clarifying experience. She brings to the - often confusing and isolating - inner search of identifying one's unique talents and desires her own unique talent to discern common threads within your past life experiences and current hopes, weaving them into a tailored life-work plan. She herself is proof positive of the process, having created a career founded on her own empathic, facilitation and organizational skills."
~ M. Cassidy